CEL's yearlong, contextualized Leading for Teacher Learning helps leaders assess their current state of teacher learning and better understand what teachers need in order to improve students' experiences.
Throughout the leaders' learning with CEL, we explore the importance of a clear student experience vision, a culture of collective efficacy among adults, and systems and routines that allow teachers to study problems of student learning to take action together. Leaders engage in a series of content sessions and job-embedded "learning labs."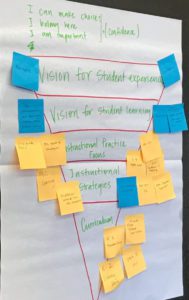 As part of the opening content session for Leading for Teacher Learning, participants consider what they ultimately want students to experience in their district and how their current teacher learning efforts map to that vision. Using sticky notes, participants list and sort their student and teacher learning focus areas like "discourse strategies," "multilingual student support," and "inclusive practices." Leaders ask themselves questions like, "Is this an instructional strategy or an approach to teaching?" And for a given strategy, "What is the intended impact for students?"
After listing and sorting the learning focus areas, participants step back and consider what they notice. Some leaders, for instance, may notice that while they have a clear vision for student experience, most of their professional learning is focused on curriculum. This may represent a disconnect between the vision and what they ultimately want for students, particularly their most marginalized students.
The image–from Nooksack, a rural school district in Washington state–shows the thinking of school leaders around student learning and teacher learning efforts mapped to a graphic illustrating their vision for student learning and experience. Participants included language at the top–"I can make choices, I belong here, I am important"–that was gathered from listening sessions with the district's most marginalized students held last year through Leading Equitable Schools.
The first Leading for Teacher Learning content session with Nooksack was a lively one with a lot of dialogue and questions about how their schools' teacher learning efforts connect and how leaders can better articulate those connections.
This year across the district's five schools, Nooksack leaders are focused on the learning opportunities of their indigenous population and multilingual students (most of whom are Spanish speakers). As they analyzed their teacher learning efforts, the leaders also considered to what extent the efforts were likely to change students' experiences.
Concluding this opening exercise, some leaders left with a clearer picture of what teacher learning efforts for teachers were most essential for the year while others left wanting to gather more perspectives from staff on their visions for student experience.
Reflecting on the first content session, one Nooksack participant said: "It was helpful to look at our vision for students and see how our curriculum and strategies support that."