OVERVIEW
You believe that helping your teaching staff work together better will shift the school culture — and make a difference for students. You've seen the value of collective efficacy, but you aren't sure how to lead for it.
 In Leading for Teacher Professional Learning partnerships, you'll identify professional learning opportunities that are tied directly to your students' experiences and their growth opportunities. You'll also develop the leadership practices to foster conditions for teachers to learn and improve together.
WHAT YOU'LL ACCOMPLISH
The professional learning you offer will be anchored in transforming student experiences and outcomes, particularly for students furthest from justice. You'll improve how teachers work and get better together — by strengthening the skills to lead for equity and collective efficacy.
WHO IT'S FOR
Principals, assistant principals, instructional coaches and lead teachers most often participate as a school team or a network of school teams within a district.
HOW IT WORKS
Through the steps outlined below, you'll build your understanding of the characteristics of effective teacher learning that results in change for students.
You'll co-create a vision for student learning with teachers, and then use that vision to drive the teacher learning focus. By centering the experiences of marginalized students and establishing high expectations for student learning, you'll generate a shared commitment to a vision and goals for student learning.

We'll contextualize your learning and planning through facilitated learning walks, leadership coaching, teacher group facilitation and support for teacher leaders. 
WHAT WILL BE DIFFERENT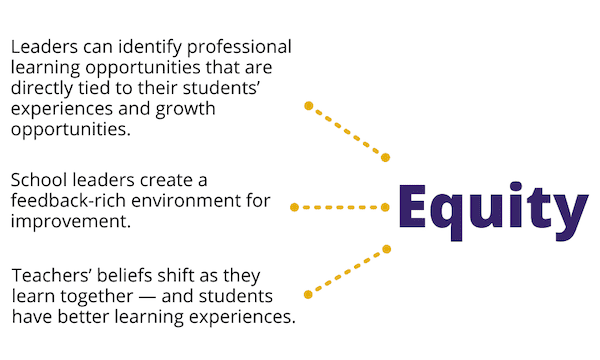 WHAT OUR PARTNERS SAY
When everyone is engaging in a similar process in multiple different venues throughout the year, that's when we see growth. We're building a system that is going to be able to continue.