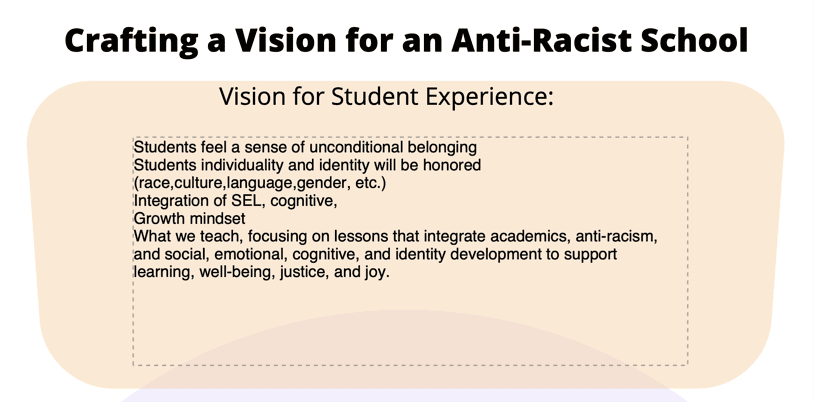 "Let your curiosity be greater than your fear."
– Pema Chodron

"Our unconscious bias whispers, 'We already have an anti-racist school.' Our student data shouts, 'You are not there yet!' We must embrace the idea that we are all novices in the pursuit of creating a sustainable, equitable school system. It will be a lifelong endeavor."
 – Central Washington Equity Leadership Network participant
Dear Partners and Colleagues,
Today, I'm excited to honor the leaders who've made such incredible differences in the lives of their students these past fifteen months.
Over that time, I have had the pleasure of working side-by-side (or at least virtually "side-by-side") with school and central office leaders across the country. I've been supporting the development of equity leadership at scale in large urban school systems and reimagining what equitable schools can look like with a network of leaders in Central Washington. I also joined principal supervisors across the country as they deepened their approaches to leading for equity in their central office roles.
Yes, this work was all rooted in advancing equity. Not only that, but it was also rooted in a conception of equity that our CEL team learned from listening to students across the country. Later in this post, you'll hear how a student-centered equity approach provoked new questions — and challenged leaders to rethink something as simple as "getting to school on time."
"Leaders earnestly spent the year creating new pictures, literally on a canvas, of what student experience, learning and teaching — as well as teacher learning — can look like."
But first, how will we know when we've designed and created equitable schools? According to students, it's when all students experience school as place where they are HAPPY and PROUD. And when we talk about all students, we're specifically thinking of Black and Brown students, those who are LGBTQ+, those who receive special education services and those who are English language learners — students who are most often furthest from educational justice.
As we've worked to center equity in everything we do, our team has challenged itself to help answer this question: what does leading with student experience at the center, with a goal of happy and proud students, look like in action?
Not surprisingly, the leaders we work with are beginning to answer that question for us. I would like to focus on two important practices I've observed that bring me hope.

You Can't Get There from Here
To lead schools that will center and improve the experiences of their most marginalized students takes courage, a plan and, most importantly, a vision. Not a vision statement, but an actual vision of what school looks like when each student feels as if they belong and has a sense of accomplishment and belief that they can succeed — in and beyond school.
Leaders in Central Washington taught me that piecemeal policy reform and practice change won't necessarily create the schools their students, parents and community members dream of. These leaders earnestly spent the year creating new pictures, literally on a canvas, of what student experience, learning and teaching — as well as teacher learning — can look like. Mapping their current reality to their new canvases helped them see that they need to be courageous and how they can plan for that.
More than just adopting new grading policies, implementing new curricula or having community forums, these leaders realized that, to attain their vision, they must address the systems and policies that maintain an inequitable status quo. Once these leaders set their North Star, their only path was to follow it.

Curiosity Is Your Compass
A group of school leaders in Yakima, Washington wanted to better understand how to reduce student tardiness to school. They had a hunch that talking to students might give them some clues on how to address this issue. After a short discussion, they agreed upon using just one prompt — "tell me about a time you were late for school" — to guide the student interviews.
"Vision sets the journey's course, and curiosity provides the fuel and guidance along the way."
To their surprise, almost all of the students began their stories with "I really wanted to get to school on time…." Almost immediately, these same leaders saw their chronically tardy students in a much different, and more positive, light.
This approach was born out of previous conversations leaders had using our Student Experience Story Guide. Asking students to talk about good and bad days at school elicited powerful stories about student experience, but also obvious trends about what makes school work or not work for students. Exclusion, being ignored by a teacher, stereotypes and unclear expectations make for bad days; a sense of accomplishment, caring adults (even just one), being accepted for who you are, understanding what different programs can do for you and extra support from an adult or peer can make for really good days.
We had a hunch that talking to students honestly would provoke changes in leadership behavior, but we underestimated how much the simple acts of curiosity and conversation could spur change.
This combination of reimagining school and genuine curiosity about student experience were critical catalysts for the leaders I worked with. To me, it became clear that vision sets the journey's course, and curiosity provides the fuel and guidance along the way.
We can't wait to join you on the journeys ahead.
Image: section of picture of an anti-racist school on canvas, shared courtesy of Grandview School District, Wash.