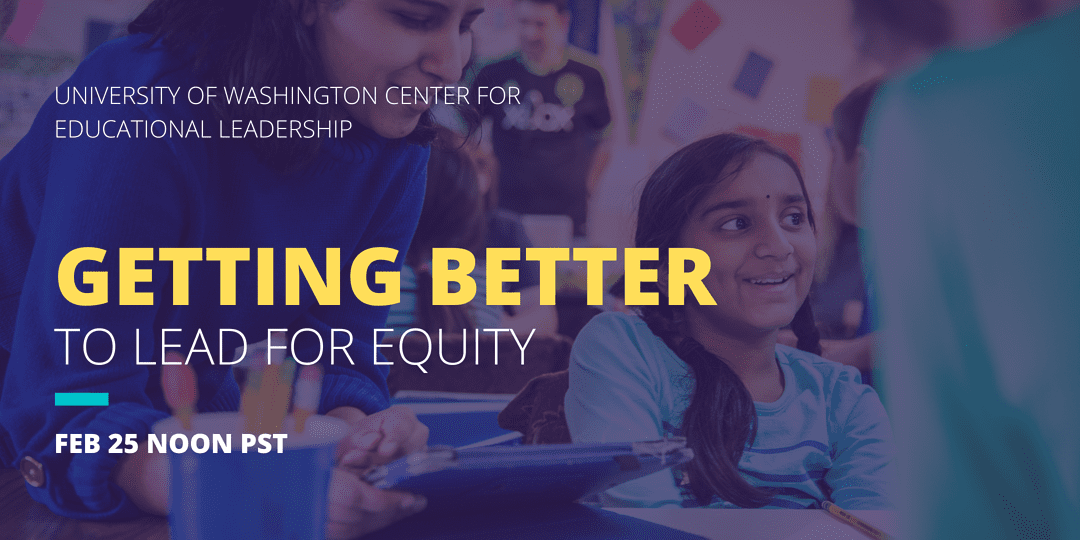 We don't yet know what far-reaching impacts the COVID-19 pandemic has had on students.
What we do know is that classrooms need to be as equitable as possible — and support rigorous learning — now.
But what does that look like, especially with ongoing and sometimes abrupt shifts in teaching and learning environments?
How do you prioritize and navigate the unprecedented choices in front of you?
Join us for a free webinar on Feb 25 and:
Get tools to help you make decisions as an equity-centered, learning-focused leader
Learn how to connect leadership practices to the school experiences of students who are furthest from justice
Imagine your ideal state, name your current state — and explore the next best steps
GETTING BETTER TO LEAD FOR EQUITY
Feb. 25, noon (PST) on Zoom
Hosted by Max Silverman, executive director, and Michele Mason, director of instructional leadership
The hour will include a walk-through of our Four Dimensions of School Leadership framework, examples of leaders who've found new ways to lead for equity, and time to reflect on your own challenges and opportunities — alongside fellow education leaders from across the country.
The Zoom room has limited capacity. Please register — and arrive for the live webinar on time — to ensure you get a virtual seat.
Can't be there live? The slide deck will be available on our website after the event and the recording will be shared with all registrants for a limited time.
(Registration has expired)
---
Already registered?
Download the Four Dimensions of School LeadershipTM (4D). This framework includes vision statements and guiding questions — and you can try using it in advance of the Feb 25 webinar.