OVERVIEW
The role of principal continues to evolve with a more intensive focus on centering student experience and equity. Principal success requires a deeper commitment to equity from central office leaders.
The Principal Supervisor Academy equips principal supervisors with key skills and tools — so that the school leaders they support can improve student experiences and outcomes. The learning takes place within a vigorous professional learning community and includes one-on-one coaching.
Over the course of the year, participants improve their practice of supporting principals in partnership — leading by teaching and learning in an atmosphere of mutual accountability.
WHAT YOU'LL ACCOMPLISH
The Principal Supervisor Academy helps grow equity-centered, learning focused leadership across your system through professional learning and coaching. You'll learn how to establish a shared vision and practices to support school leaders in creating better student experiences and outcomes, particularly for students furthest from justice.
WHO IT'S FOR
Our Principal Supervisor Academy is for all central office leaders who support principals' development as equity-and-learning-focused leaders.
HOW IT WORKS
Academy participants will work from problems of practice, use cycles of inquiry, learn from case studies and use virtual professional learning communities, as well as virtual individual coaching, to develop their skills. Topics include:
STRUCTURES AND ROUTINES FOR PERFORMANCE IMPROVEMENT

HOW TO MONITOR YOUR OWN DEVELOPMENT AS A PRINCIPAL SUPERVISOR

BUILDING AND PROTECTING CALENDARS

HOW TO COMMUNICATE CLEARLY AND CONTINUALLY

ASSESSING AND GATHERING EVIDENCE TO SUPPORT PRINCIPAL PROGRESS

HOW TO DEVELOP EFFECTIVE 1:1 WORK WITH PRINCIPALS
The content for this academy is based on the CCSSO Model Principal Supervisor Professional Standards.
WHAT WILL BE DIFFERENT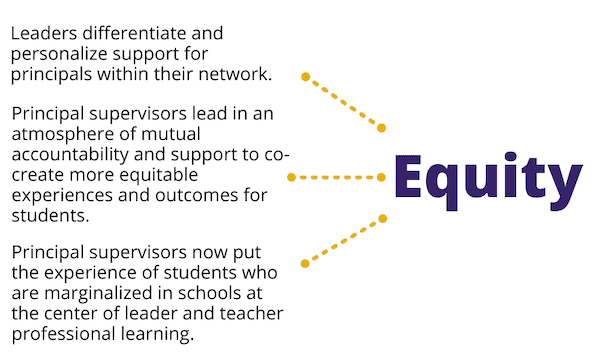 WHAT OUR PARTICIPANTS SAY
I am much more cognizant about protecting principals' instructional leadership time. Also, on my site visits and in my conversations with principals, I am constantly thinking about the through line to students and how what we are doing is going to impact student learning. This Academy has brought increased awareness and reflection to my practice.
My leadership practice has changed as a result of the Principal Supervisor Academy. I now have the tools to focus specifically on the things that matter the most in affecting educational outcomes.
The first two Institutes were some of the most applicable, relevant training that I have received as a principal and district office leader. Rarely do we get opportunity to learn from leaders at CEL, AASA, and other districts from across the country in one room.