Learning curves have been steep in Carrie Howell's classroom – for the students, for the teacher, and for the peers who have come to watch over the years as she worked side-by-side with Center for Educational Leadership coaches, tackling learning problems and trying on new instructional strategies.
"The coaches asked smart questions that pushed my thinking and really helped me to take risks," says the language arts specialist at The Academy of Citizenship and Empowerment in SeaTac, Washington. "I had always been afraid to try on new things until I had mastered them as a teacher. But here, I had the support of the coaches and of my colleagues in the room and it felt safe to take risks as a teacher."
Other teachers' classrooms also became learning laboratories, places for coaching, for modeling, for rich, research-based discussions around excellent, equitable teaching and learning. "The CEL coaches helped us build up a culture of collaboration and collegial trust over time," says Howell. "And helping each other meant upping the rigor for all of our students."
Minority students form the majority at the academy, where the working motto is "failure is not an option." Less than 30 percent of students are Caucasian, more than 70 percent are on the Free/Reduced Lunch program, and many are English Language Learners. "We have a lot of students who've not traditionally done well in school … so we can't use the same traditional instructional models that have left them behind," says Howell.
Beginning in 2004-05, CEL coaches brought in new, evid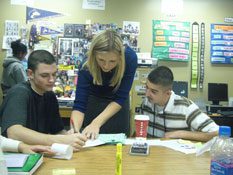 ence-based methods of differentiating instruction, showing teachers how to reach individual students where they were in their learning and how to move them along to where they needed to be. If students read at different levels, for example, they could all read different books and still focus on the same high-level lesson, such as tracking symbolism in text.
Such strategies allowed every student, regardless of learning and language background, to join in classroom discussions and engage in big ideas.
This side-by-side coaching often demonstrated students' untapped potential. "CEL helped me look at my students differently," says Howell. "Some of my students could do things that I previously thought were beyond their ability."
CEL coaches pushed the importance of ongoing formative assessments. Howell now continually confers with students and checks their work to see where they are in their learning, what they understand or don't understand, and to build in the supports they need for the next lesson. "I have really gotten to know my students as learners and thinkers in ways I never did before. And they're willing to take more risks because they know that I know them."
She credits her coaching with CEL as the tool most responsible for helping her grow and change as a teacher. "None of my professional learning has been more transformative than my work with the embedded coaches in my classroom," says Howell. "It has helped us all look at our instruction in a way that is focused on what is best for the students, not on what is best for the teachers."