Learn how system leaders created the conditions for principals to be what they most wanted them to be — instructional leaders — by taking their perspective. This 24-page report includes the tool kit that the system leaders used to facilitate this transformation.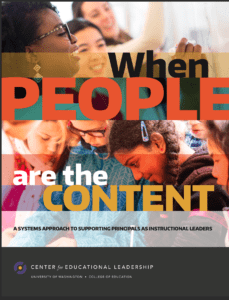 Despite reforms, California still faces lagging student outcomes and big achievement differences between white students and students of color. Recent reforms have decentralized resources to the local level with the assumption that more local control can improve teaching and learning. But research has highlighted a lack of capacity — or uneven capacity — at the county, district and school levels to support the continuous improvement that translates into improved teaching and learning.
The two-year California Educational Leadership Initiative (CELI) was designed to help California county offices of
education effectively support districts as they explore how to give their principals the time, space and support to be effective instructional leaders.
The University of Washington Center for Educational Leadership (CEL) led CELI with support from the San Francisco-based Stuart Foundation.
This case study has two parts:
The theory of action and a summary of the results that each participating county experienced

A comprehensive tool kit that any district office can use immediately to support principals with instructional leadership
Capacity building happened on two fronts: by boosting content expertise in instructional leadership and coaching leaders on how to build effective, productive partnerships with districts. While the project focused on three county offices of education and six districts, the approach was designed with the goal of replicating it  statewide.