The Principal Support Framework is a tool for central office leaders to eliminate inequitable student experiences and outcomes. Updated in 2022, this framework has four action areas that offer a student-centered vision for system leaders to partner with school leaders to grow equity leadership practices.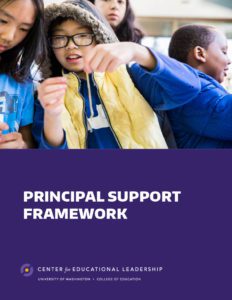 The Principal Support Framework describes the partnership between school system leaders and principals that is critical for eliminating the inequities that exist in schools. 
Equity-driven school leaders develop school communities in which every student, particularly those furthest from justice, consistently has experiences that result in their social, emotional and academic well-being. A system that organizes around these goals must work differently to foster school leadership for equitable experiences and outcomes. 
Based on research and informed by CEL's experience with school systems across the country, this framework offers a vision for how central office leaders can improve the conditions and support for growing equity leadership practices across their systems.
The updated Principal Support Framework is divided into four action areas. It expands on the instructional leadership focus of the previous version and centers on improving the experience every student has at school.
Foster an inclusive leadership culture focused on creating equitable experiences and outcomes

Co-create a shared vision of principals as leaders of equitable schools

Create a system of support for principals to grow as leaders of equitable schools

Develop a strategic partnership between the central office and principals
Each action area includes a description of its impact, vision statements and guiding questions that encourage inquiry.
A research summary for the Principal Support Framework can be found here.