OVERVIEW
You're working to develop the relationships, systems and structures to help your principals do their best work. Do you have access to professional learning designed specifically for your work as a supervisor of school leaders?
Principal Supervisor Professional Learning and Coaching will equip you with skills and tools so you can grow equity-centered, learning-focused leadership at scale. You'll learn how to partner with school leaders — and help them lead for better student experiences and outcomes.
When your principals learn in an atmosphere of mutual accountability — with you leading by teaching and taking on a partnership role — the teachers and students in your system will also learn better. 
WHAT YOU'LL ACCOMPLISH
You'll grow equity-centered, learning focused leadership across your system through professional learning and coaching. Through our work together, you'll establish a shared vision and practices to support school leaders in creating better student experiences and outcomes, particularly for students furthest from justice.
WHO IT'S FOR
Principal Supervisor Professional Learning and Coaching is intended for equity-and-learning-focused central office leaders who support principals' growth as their primary responsibility.
HOW IT WORKS
You'll begin with a self-assessment, interviews with stakeholders and an analysis of structures to support principals. Professional learning opportunities will be organized around whole-team sessions and job-embedded coaching. The self-assessment is aligned to the Council of Chief State School Officers Model Principal Supervisor Professional Standards. 
Through CEL's Instructional Inquiry Cycle you'll explore research-based practices of effective principal supervisors and get support to apply those practices in your 1:1 relationships with school leaders, build principal networks and differentiate approaches for each principal. The methods include:
WORK FROM PROBLEMS OF PRACTICE        

CYCLES OF INQUIRY       

LEARN FROM CASE STUDIES   

EMBEDDED COACHING   

 
WHAT WILL BE DIFFERENT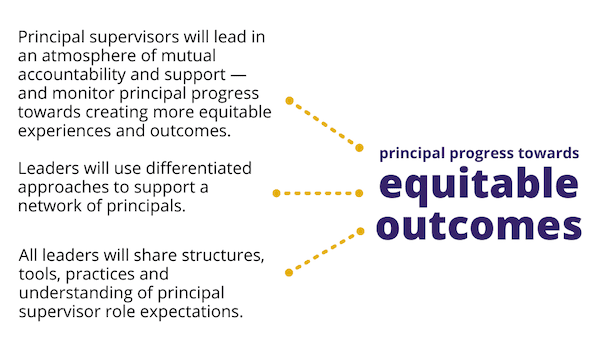 WHAT OUR PARTNERS SAY
I am much more cognizant about protecting principals' instructional leadership time. Also, on my site visits and in my conversations with principals, I am constantly thinking about the through line to students and how what we are doing is going to impact student learning. This Academy has brought increased awareness and reflection to my practice.
My leadership practice has changed as a result of my involvement with the Principal Supervisor Academy in that I now have the tools I need to focus specifically on the things that matter the most in affecting educational outcomes.