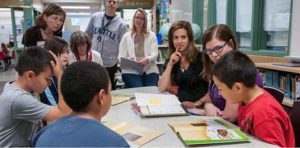 Teachers learn all the time: from students, from trial and error, and from each other. We know that as teachers strive to create powerful learning experiences for all the students in front of them, they are constantly questioning and experimenting with their teaching practices.
We also know that, ideally, school and district leaders seek to nurture that questioning and experimenting on the part of teachers, often through school- or district-based professional development programs and structures.
Yet reports such as The Mirage: Confronting the Hard Truth About Our Quest for Teacher Development, throw cold water on the idea that the education field knows what works for teacher professional development. We do know from research that some forms of professional learning for teachers are more likely to have an impact on practice than others. For instance, we tend to see greater effects from job-embedded coaching and content area-focused collaborative inquiry. While our field has identified features of effective formal professional learning, these features are rarely implemented, and even in the best of circumstances, the impact of these formal learning experiences rarely reaches students.
What exactly is the problem with traditional teacher professional learning? Why isn't our field's massive investment in professional learning showing commensurate returns in teacher improvement and student learning? We argue that both cultural reasons and strategic reasons interfere with the implementation process.
"Buy-in" versus "shared-ownership": one aspect of a culture of professional learning
Do you know any teachers who view professional development as externally imposed interventions that they were expected to "buy in" to trying in their classrooms? As The Mirage report notes, "We bombard teachers with help, but most of it is not helpful — to teachers as professionals or to schools seeking better instruction."
All too often, professional learning is seen as a random event rather than as a routine feature of a school where educators collaborate to examine and address problems of student learning. Ultimately, we want to create cultures of continuous improvement where teachers and leaders constantly frame and solve student learning problems, and "professional learning" becomes part of how school functions day to day. Professional learning, in this view, provides tools, expertise, and the chance to take risks in service of solving real problems of practice — and the chance to continuously learn from the process. Ownership happens when everyone is involved from the beginning (as opposed to buy-in, which sounds like getting people to buy-in to your vision).
Fortunately, as we are starting to see in the field, we can address the strategic leadership problems standing in the way of shared ownership.
Leadership strategies
The leaders who are able to create professional learning cultures continuously work on the following, in collaboration with a team of other leaders:
Getting clear about what problem to solve before identifying solutions.
Identifying the specific student learning needs.
Examining the culture surrounding teacher learning at the school.
Providing feedback, time and resources so that teachers get what they need to act on what's being taught.
Constantly re-examining the problem and the evidence of impact on students.
Involving teachers from the beginning, from getting clear about the problem you are trying to solve, to involving teachers in the professional learning feedback process.
At our Summer Leadership Institute 2018, we'll surface our ways of working toward a continuously improving, problem-solving culture, and bring forward tools and processes to help leaders do the following:
Interact with emerging ideas about a problem-solving, improvement culture.
Participate in collaborative efforts with other leaders as they problem solve.
Develop protocols leaders can take back to their schools and districts to 1. Examine the professional learning cultures they have and to 2. Start to shift those cultures.
Examine ways that leaders are currently creating the cultures they have and consider ways they might shift their own leadership of teacher learning.
Support thinking about aligning professional development goals.
Plan for different types of professional learning structures.
Learn facilitation moves and the kinds of questions to ask.
Tell us about your experiences with teacher professional learning
In the comments section below, tell us about your experiences. What have been the most (or least) successful teacher professional learning opportunities you have experienced? What were the leadership conditions that helped — or the leadership gaps that hindered — the solving of student learning problems?