Empower school leaders to improve teaching and learning across your system with this toolkit. Learn how you can redesign central offices to support effective school leadership and develop the instructional capabilities of school leaders.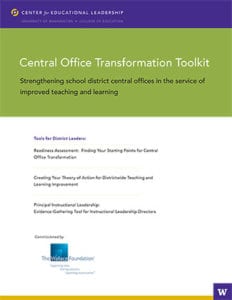 Commissioned by The Wallace Foundation, the Central Office Transformation Toolkit was developed by the Center for Educational Leadership in partnership with Dr. Meredith I. Honig, an associate professor at the University of Washington College of Education. The tools — Readiness Assessment, Creating Your Theory of Action and Principal Instructional Leadership — are based on Dr. Honig's research and CEL's experience helping districts across the country improve how their central office leaders support better instructional leadership.
Toolkit Includes Three Guides
The following three guides in the Central Office Transformation Toolkit can be used in sequence or as appropriate to where a school district is in the transformation process:
Readiness Assessment: Finding Your Starting Points for Central Office Transformation
This guide helps districts identify productive starting places for central office transformation. It guides central office staff through a series of questions that generates information to use in discussions with key district leaders and helps districts identify the first phases of the transformation process based on such considerations as ease or urgency. 
Creating Your Theory of Action for District-Wide Teaching and Learning Improvement
This tool helps districts ensure that their central office transformation plan is grounded in a clear analysis of what is and is not working for students. It helps identify how strengths and weaknesses in classroom teaching, principal instructional leadership and central office practice, structures and systems are contributing to students' current performance. Using that analysis, districts can generate a theory of action or an evidence-based story that explains the specific changes they intend to make.
Principal Instructional Leadership: Evidence-Gathering Tool for Instructional Leadership Directors
This tool helps instructional leadership directors (or principal supervisors) continually assess principals' instructional leadership, develop a clear sense of what counts as evidence for instructional leadership and create systems for collecting and organizing evidence of principals' instructional leadership. Using this evidence can be the foundation for principal supervisors' work with individual principals and groups of principals.