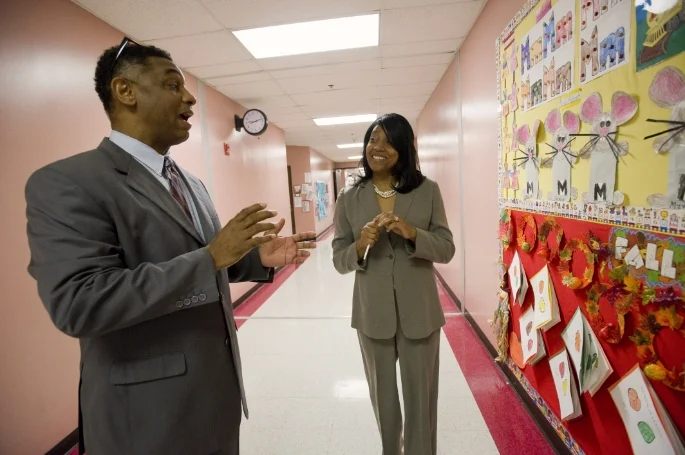 By JUNE RIMMER
In Memphis, Tennessee, White Station Elementary has a reputation as a high-performing school. When students are already achieving at high levels, showing their growth can be tough. But coaching helped Principal Tracie Thomas — in only her second year at the helm — take grades 3-5 to new heights of success.
Though White Station students generally score well on tests, data showed students in those grades were the school's poorest performers. Thomas spent the 2013-14 school year focused on their teachers. With the help of her brand-new ILD, or instructional leadership director, she organized her time to stay in close touch with them through observations, conferences and emails.
Thomas also focused on addressing problems of practice and giving concrete, helpful feedback on instruction.  Before, she shied away from such discussion, fearing she would discourage her teachers. Thanks to her ILD and her experiences with coaching and learning walks led by the University of Washington Center for Educational Leadership (CEL), she has become more confident offering evidence-based feedback. "I can have conversations with teachers based on data," she says. "It's very nonjudgmental, not threatening. By reflecting on their practice with them I can coach them."
"CEL has taught our instructional leadership directors (ILDs) how to help principals. Their approach has been strategic and very intentional."
Coaching also helped Thomas create a plan to differentiate instruction for third-, fourth- and fifth-graders. A state mandate requiring physical education brought White Station a second gym teacher. The increased staffing allowed students in the target grades to receive differentiated small-group instruction three times weekly. While music, art and physical education teachers took on a few additional students and incorporated reading and math into their lessons, classroom teachers were able to divide up a smaller pool of students for more personalized instruction. "It allowed teachers to pull those kids for re-teaching or enrichment," she said. "I think that made a great impact."
End-of-year test scores brought good news for those youngsters. "They are the top-performing grades this year," Thomas said with pride. "Third grade did so well I now have to make sure the fourth grade teachers carry on that progression and continue to grow the students."
CEL jumpstarts new learning for ILDs and principals
Research shows that while teachers are the most important school factor affecting student achievement, the school principal is the next most influential element. Yet many school districts struggle to find effective ways to support principals. When well-trained and thoughtfully deployed, ILDs can help meet that need.
Last summer district leaders in Shelby County, which includes Memphis, launched a new cadre of 13 ILDs. Thanks to their prior work with CEL through the Bill & Melinda Gates Foundation-funded Leading for Effective Teaching Project, Shelby County turned to CEL experts to help write the ILD job description, develop a hiring process, and provide professional development and coaching to the cadre through their first year. Shelby's ILDs met monthly with CEL staff to work through the Center's principal supervisor curriculum and related tools. Additionally, CEL provided two full days of professional development for the entire principal corps — helping them more deeply understand instructional purpose and student engagement and build their observational skills through school walkthroughs.
In surveys, Shelby principals say their new ILDs have helped them strengthen their skills as instructional leaders by offering evidenced-based feedback that helped them strengthen their skills as instructional leaders.
"CEL has taught our ILDs how to help principals," said Margaret Gilmore, assistant to the chief academic officer for Shelby County Schools. "Their approach has been strategic and very intentional."
Early results of the work appear promising. In surveys, Shelby principals say their new ILDs have helped them strengthen their skills as instructional leaders by offering evidenced-based feedback that helped them strengthen their skills as instructional leaders. Principals appreciated the suite of instructional leadership-focused ideas and tools ILDs shared with them during several meetings throughout the year. ILDs also led regional networks of principals, who met regularly to learn to use protocols and other tools to help teachers refine their instructional practices.
Along with the one-on-one ILD coaching, CEL staff led principals through training in the Center's research-based instructional framework, the 5 Dimensions of Teaching and Learning™. Principals learned to observe their teachers' effectiveness in establishing a classroom environment and culture, setting an instructional purpose for each lesson, engaging students, and more, through a series of guided walkthroughs.
"A lot of them said, 'We love the feedback, the fresh set of eyes,'" said CEL project director Lisa Rooney. More importantly, after experiencing a walkthrough led by CEL, principals took the initiative to schedule walkthroughs among their own networks. "They're doing it with one another. I'm hoping that will stick," she added.
"We selected right"
Getting principals to make these strides started with hiring the right ILDs. With CEL's help, Shelby County not only interviewed candidates, but took them through a rigorous set of tasks: developing a 10-minute presentation on the role of the ILD; evaluating a teacher based on a videotaped lesson; creating a professional development plan for a principal based on a case study. "Some people are professional interviewers," Gilmore noted. "This process helps you find the instructional leaders. We selected right." As a result of this experience, Shelby County now uses case studies in its principal hiring process, too.
ILDs master new mindset
By consistently focusing on a theory of action that starts with student learning and moves backward to the teacher and principal behaviors that support learning, ILDs brought some stability to the very unstable environment.  "It helped me keep a focus," says ILD Reggie Jackson, who previously served as principal of a Memphis middle school.
Coupling this theory of action with teaching, not telling principals what to do proved to be a powerful strategy for change. By asking what student behaviors a principal would like to see, "you can get their blood flowing," Jackson observed.  By then zooming out to teacher behaviors, then leadership team behaviors, then principal behaviors, principals can see "it's not just me that needs to change," he added. "What better way to get people to change than for me to lead the change?"
Whitelaw takes a long view of learning to teach, not tell. "I'm still working on that piece," she said. "It's so easy to tell."
"This is not a telling job," said ILD Angela Whitelaw. "We serve as a thought partner with a principal." Coaching involves delicate forms of negotiation, such as jointly determining an area of focus for improved instruction. "A lot of principals just want to increase literacy without looking more deeply at the real instructional problems within their schools," she said. "We had to do a lot of looking to help principals determine what should be the focus for the year."
Whitelaw takes a long view of learning to teach, not tell. "I'm still working on that piece," she said. "It's so easy to tell." She estimates she spent 60 percent of the year coaching by asking questions and 40 percent guiding her principals more directly. She's working on crafting and sequencing her questions to help her principals more deeply examine their schools and develop their improvement strategies.
To grow as coaches, ILDs also needed — and received — individual coaching. "You had access to a person with experience enough to let you know you're going in the right direction," said Jackson, who appreciated both having his coach observe him during coaching sessions with principals and observing other ILDs coach their principals. "I got to see someone else coach in real life, too."
Though it took time to build trust, principals came to appreciate their ILDs and turn to them as thought partners. "It's so good to be able to have a person you can feel comfortable with to say hey, let me run something by you.  Otherwise you could do something for three or four months then hear, 'wait that's not the way it should be done,'" said Thomas. "With an ILD you get feedback faster. You can fine tune what you need to fine tune."
District leaders are seeing the impact on instructional leadership. "I've seen ILDs coach for the improvement of instruction," says Gilmore. "They're really trying to develop our principals into instructional leaders." And she's confident that will transfer into the classroom. "When we grow our leaders, they grow teachers."
From managing to coaching
If it is tough for ILDs to shift from telling to teaching through questioning, it is exponentially harder for regional superintendents, who are long-accustomed to issuing directives, not coaching.
"I was telling principals what to do," said regional superintendent Michael Lowe, who supervised 15 principals directly, in addition to managing two ILDs, each with a coaching load of 13 principals. "They were putting up with it because I was their overall boss."
Lowe credited his CEL coach, Max Silverman, and his experiences watching his ILDs at work with helping him make the shift. "Max was very direct," and let him know his authoritative style could be intimidating, Lowe said. "I had to work on my soft skills. Max was very supportive."
Working with his coach, Lowe learned to make subtle changes in his language that shifted the tone from supervisory to supportive. For example, he put the phrase "check in" — as in I'm checking in with you — to rest. Lowe began to swap in questions to his principals, such as, "How's it going for you? What have you noticed?"
As a result, "that iron curtain was kind of let down," Lowe observed. In network gatherings, principals became "a little friendlier with each other, a little more personal." As people grew more comfortable, they were able to go deeper into the work. "It wasn't about one year's worth of test scores, it was about getting to know each other and being courageous with some of these conversations."
CEL also taught Lowe and his peers at the regional level how to have hard conversations with principals about what they are seeing in classrooms and how to evaluate it more accurately. Additionally, ILDs learned how to help principals have conversations with teachers when their ratings change as a result of a principal's better understanding of how to assess instruction. "How do you sit with a teacher who was previously considered exemplary and now is considered basic? That's a lot of the work we do," says Silverman.
This hard work is starting to have an effect on how Shelby County plans professional development for its principals. "I want to start letting principals train other principals," says Lowe. "I want to group them so I can talk to one group about culture, another about feedback."
Once the cadre was hired, the district faced two challenges: explaining the new role to principals and helping the new coaches — many of whom were fresh from the principalship — to understand their new role and develop their skills. CEL assisted with both tasks.
"We really rolled out the expectations from the outset," said Gilmore. She credited CEL with helping Shelby County ILDs explain their role to principals, outline their schedule when they visited schools, and let principals know how to support those visits. District leaders also worked hard to protect the 75 percent of ILD time devoted to schools, even as they faced major structural changes — the merger of Memphis City Schools and Shelby County Schools, followed by several smaller county municipalities leaving the newly formed district.
"It's a tough context. It is remarkable how much the folks we work with have kept their eye on the ball," said Max Silverman, a CEL associate director.  Silverman coached a small group of regional superintendents who doubled as ILDs.