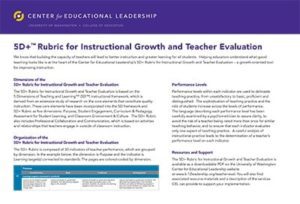 Strong instructional practitioners are constantly reflecting on their practice, grounding their practice in research, and working to improve and streamline their practice to be more effective in their impact on student learning. Following this spirit of instructional innovation and learning, the University of Washington Center for Educational Leadership (CEL) has released an updated version of the 5D+ Rubric for Instructional Growth and Teacher Evaluation.
As a research institution, CEL learns from district partners and revises its work based upon that learning. While version 2 of the 5D+ Rubric is a sound and complete evaluation and growth tool, the new version 3 is clearer, more concise and easier to use for teachers and principals.
Changes in the third iteration of the 5D+ Rubric include:
The new title "5D+ Rubric for Instructional Growth and Teacher Evaluation" more accurately reflects the purpose of the rubric.
Fewer indicators — 30 instead of 37.
Changed rarely or never language to rarely.
Removed frequency language.
More clarity in indicator titles.
The revised 5D+ Rubric remains grounded in the validated 5 Dimensions of Teaching and Learning™ instructional framework and has the same user-friendly format and language as version 2.
If you want to know more about these changes and get your questions answered on how to use or transition to the new version, join our webinar on May 17 with CEL Director of Teacher Evaluation Patty Maxfield.