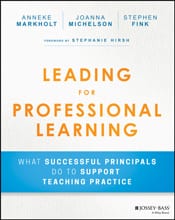 We are thrilled to announce the release of a new book  from Anneke Markholt, Joanna Michelson and Stephen Fink of the University of Washington Center for Educational Leadership.
Leading for Professional Learning offers field-tested guidance to help school leaders more effectively support teachers' professional development.
Leadership is crucial to professional learning, providing the necessary systems and structures that enable teachers to improve their own practice and in turn, improve student learning.
With an illustrative case study, this book provides invaluable guidance, packed with practical tools, processes, and expert advice.
Learn more, read a sample chapter, and download a free tool