by SANDY AUSTIN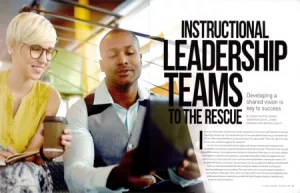 How can a principal keep from feeling overwhelmed trying to improve teaching and learning? Form an instructional leadership team of teacher leaders to identify teaching and learning challenges in the building. Such a team builds its own instructional leadership skills while expanding your capacity.
In the September 2018 issue of NASSP's Principal Leadership magazine, Sandy Austin, Donna Anderson-Davis, Jason Graham and Michele White explain how to put instructional leadership teams into action. They share five best practices for school-based instructional leadership teams along with lessons learned, advice, and links to three useful tools.
Used with permission of NASSP/Principal Leadership. All rights reserved.