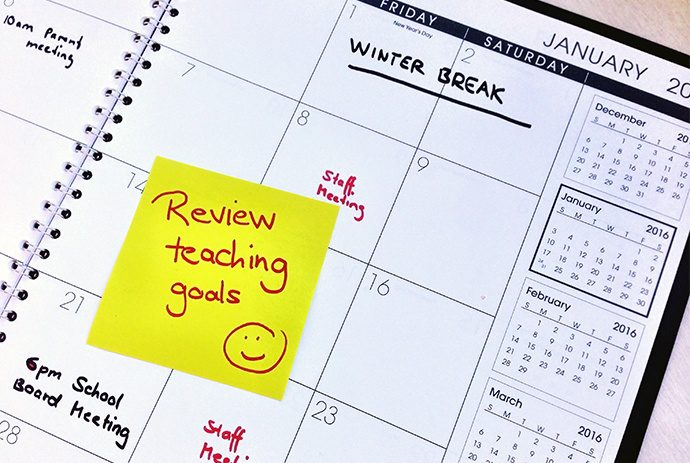 For teachers and principals, the run-up to the winter break can seem like a mad dash to a (first) finish line. Time is short and instructional improvement goals slip down the priority list.
What to do? Mark your calendar for January. The time after the winter break is perfect for everyone to take stock of progress toward the instructional goals set in the fall. It's a great opportunity to step back and reflect on how students have been growing and what teachers and principals can do to continue to support them.
Principals often ask us how to talk with teachers about their professional growth since the start of the year. Typical questions include How can I help teachers reflect honestly on their instruction in light of student learning and our school's goals? and How can I best prepare for conversations about goals with teachers?
There are many ways principals can address these questions. But let's look at one example from the field and some tips that can help you improve these conversations.
Planning for teacher conversations
In a recent visit to an elementary school, we watched an instructional coach, principal and assistant principal prepare to have conversations with the fifth grade teachers about their progress toward their instructional goals.
The principal was ultimately going to conduct the conversations with the teachers one-on-one, but she invited her leadership team to help her plan and to give them some experience with the planning process so they could replicate it with other grade level teachers.
First, the team reviewed the school's instructional focus on supporting students' reading of complex texts. They discussed what the teachers had learned in professional development and what was happening in classrooms as a result. Everybody noted the school's strong emphasis on crafting and asking questions that prompted students to take a closer look at texts, especially when they were very complex.
They then reviewed together one teacher's specific professional goal, or "area of focus," connected to gradual release of responsibility. This teacher had decided that due to the large number of English-language learners (ELLs) in her classroom, she wanted to include more visual cues and oral language stems for students during experiences with texts. Her area of focus was:
If I provide visual cues (like pointing to the text, or writing the questions on a chart or a handout) when I am asking questions about texts, and if I provide oral language stems when I ask students to talk about these questions, my English-language learner students will reread texts in response to my questions and will use the stems to verbalize their answers.  ELL students will all participate in partner conversation about text and will always refer to the text using the sentence stems when answering questions.
Then, as a team, the instructional leaders reviewed all the scripts the principal had taken during observations in the teacher's classroom that school year. Where was evidence of the teacher's progress toward her instructional goal? How was she using the instructional techniques she had identified and what was the effect on her ELL students' participation?
They found some specific instructional moments to discuss with the teacher that highlighted her use of sentence stems and visual cues when asking the students to discuss texts.  They selected moments when there was a clear link between the teacher's use of these instructional moves and the resulting student discourse.
Overall, the leaders thought they saw progress in the ELL students' discussion of texts since September as a result of the supports the teacher provided, but they wondered what the teacher's analysis would be.
With this information, the principals worked together to draft a set of strengths-based questions and ideas to share with the teacher to prompt her to reflect on her progress:
Based on the evidence here, how did focusing on visual cues and oral language stems support your ELL students' ability to talk about and access complex texts?
What are you noticing about the progress your ELL students are making?
What does the evidence suggest about the connection between your teaching and the results in student learning?
With input from the team, the principal decided to write this teacher an email inviting her to a one-on-one meeting to discuss her progress toward her goals and asked her to bring the relevant student work and data she had collected in the first half of  the school year.
Tips for planning a midyear conversation with a teacher
Before you conduct a midyear conversation with a teacher about goals, consider these tips:
The way you introduce the meetings really matters! Make it clear that these conversations are formative and aimed at discussing teacher growth in service of student learning. Let teachers know that they will play an active role in the conversation as they review their progress. Remind teachers to bring relevant student and instructional-practice data to the conversation.
Consider the school goals and the professional development that teachers have received. You might ask yourself: What have teachers been learning as a group? What would I expect to see in their classrooms now? What have I been seeing in classrooms so far?
Review the teachers' individual goals, including what they said they were going to work on in their teaching and the result in student learning they expected to see.
To keep the conversation evidence-based, allow time beforehand to analyze the evidence in scripts you took in the classroom, preparing specific moments to share with teachers that reflect their goal area. You can do this with teachers in the conversation and/or ask the teacher to review data and scripts ahead of time. Keep the time in mind and decide how much you want to ask teachers to do ahead of time as well as in the discussion with you.
Conclusion
Let's be honest, it can be just as challenging to make time for these midyear conversations in January as it is before the break. However, we find that strengths-based, evidence-driven conversations about teacher and student development can be exactly what teachers need to tune their practices for the rest of the year. For principals, these conversations can provide valuable insights about the direction of professional development for the school for the rest of the year.