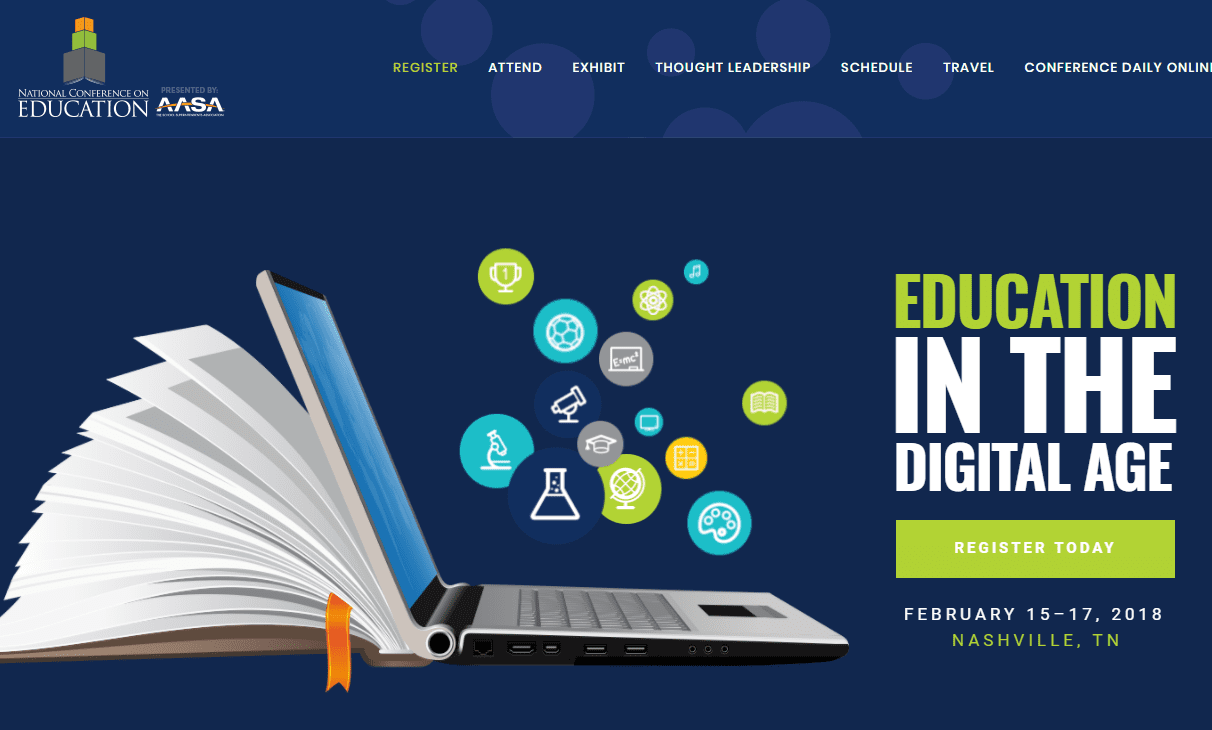 We have three great sessions on Thursday and Friday for superintendents and principal supervisors at the AASA National Conference on Education in Nashville. Check them out!
Thought leader session: AASA National Principal Supervisor Academy
Thursday, February 15th, 2018, 2:00 pm to 3:00 pm
Location: Knowledge Exchange Theater – Nashville Music City Center
In partnership with the University of Washington's Center for Educational Leadership, AASA has launched the first national principal supervisor endorsement program. This session will feature a panel of participants from the program's first cohort who will discuss how they have changed their supervisory roles to better develop and support principals as instructional leaders. CEL's deputy director, Max Silverman, and AASA's associate executive director, Mort Sherman, will facilitate.
Breakout session: Beyond Principal Supervision — Supporting principals as instructional leaders
Thursday, February 15th, 2018, 3:00 pm to 4:00 pm
Room 205B – Nashville Music City Center
School districts across the country are quickly revising the role of principal supervisor to reflect recent research indicating a need for a stronger focus on improving principal performance. While many districts are just beginning to make such changes, a number of others on the leading edge of this transformation are learning that there is more to supporting principals than just revising their supervisor's role. In this session, learn from two leading urban school districts as well as from what the University of Washington Center for Educational Leadership is learning about creating systemwide support for principals. Leave with a deeper understanding of what principals need to succeed, knowledge of how to enlist central-office leaders to work differently and specific recommendations for action at home. CEL's Max Silverman and Sharon Williams will present along with Sito Narcisse, Chief of Schools of Metropolitan Nashville Public Schools and Mike Starosky, Chief of Schools of Seattle Public Schools.
Breakout session: How much do your school leaders know about improving teaching and learning?
Friday, February 16th, 2018, 2:30 pm to 3:30 pm
Room 209C – Nashville Music City Center
CEL Deputy Director Max Silverman will engage participants in compelling assessment results illustrating the level of instructional expertise among school leaders across the country. Specific findings will be shared related to leaders' knowledge and skill in observing and analyzing teaching and learning, the extent to which they can provide useful feedback to teachers, and the extent to which they can lead and support teacher professional learning. Ruth Perez, superintendent of Paramount School District (California), will discuss how her school district is using their assessment results along with a comprehensive instructional framework to support the growth and development of their own school leaders.
Going or not going to the conference?
Learn about CEL's three essential frameworks for superintendents and principal supervisors. Visit the AASA NCE website.