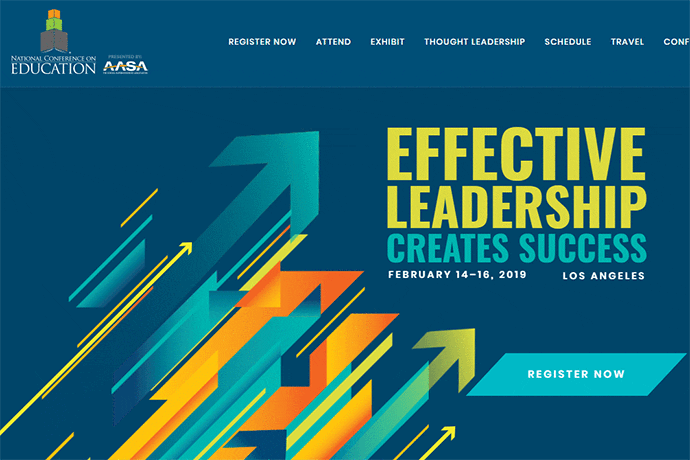 The Center for Educational Leadership's executive director, Max Silverman, will take part in two panel discussions at the AASA 2019 National Conference on Education in Los Angeles. Silverman will engage in a facilitated dialogue about leadership strategies for closing achievement gaps and increasing success for all students, in a panel titled, "The Missing Link: Accountability With Staff Support." Then he will participate in a discussion on how to strengthen your principal workforce and improve their competencies as they become instructional leaders in a Thought Leader panel titled, "Great Principals Have Great Leaders."
The Missing Link: Accountability With Staff Support
Friday, February 15th, 2019, 8:00 am to 9:00 am, Room 507
Max Silverman will take part in a panel presentation facilitated by David Steinberg titled, "The Missing Link: Accountability With Staff Support." 
For school districts and schools to succeed with their largest challenges, David Steinberg, associate professor of organizational leadership at Hood College, revises a commonly held idea to become a more powerful leverage point: What gets measured and supported gets done.
Take an in-depth look at two school systems that demonstrate it is possible to be both data-driven and a builder of professional capacity. Engage in a facilitated dialogue about leadership strategies for closing achievement gaps and increasing success for all students with the director of the Center for Educational Leadership and superintendent Jack R. Smith from Montgomery County Public Schools (Maryland) and superintendent Michael Moan from Woodstock Community Unit School District 200 (Illinois).
Great Principals Have Great Leaders
Friday, February 15th, 2019, 12:45 pm to 1:45 pm, Room 502A
Max Silverman will take part in a Thought Leader panel titled, "Great Principals Have Great Leaders."
In many large school districts, principal supervisors face sprawling jobs, overseeing an average of two dozen schools and assuming numerous administrative, compliance and operational responsibilities. The result is that they often can't provide their principals with the type of meaningful support that could boost principal effectiveness, especially in leading schools to higher-quality instruction.
In 2014, The Wallace Foundation undertook research to see if there were opportunities to re-design the principal supervisor role. In 2017, AASA and the University of Washington Center for Educational Leadership created a National Principal Supervisor Academy to train principal supervisors.
Join us for a discussion on findings from both initiatives and learn how to strengthen your principal workforce and improve their competencies as they become instructional leaders.
Other featured panelists include: Dr. Christopher Williams, assistant superintendent with the Ocean Springs School District in Mississippi; Jill Baker, deputy superintendent of schools, and Kelly An, director of leadership development, Long Beach Unified School District in California. The panel will be moderated by Jacqueline O. Wilson, assistant professor of Delaware Academy for School Leadership, University of Delaware.
To learn more, visit the AASA conference website.