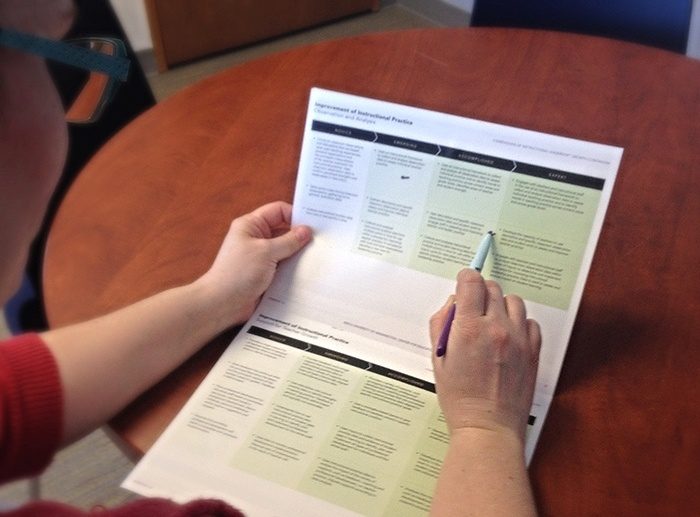 By JUNE RIMMER
Over the years, I have worked with a lot of principals and their supervisors with the goal of improving the principals' instructional leadership practice. There is one issue that comes up often: Supervisors are not specific enough in telling principals what they should do to get better.
For example, a coach, supervisor or consultant might say, "You're doing a really good job with collecting evidence of classroom instruction, but an area you might focus on is the way you give feedback to teachers." And that's all they say.
As a principal getting this feedback, I don't necessarily know what I should do next. I just know I'm not doing it right.
Principals, and for that matter all of us, need to know specifically what next steps we can take to get better rather than just getting the feedback "You need to get better."
The 4D Instructional Leadership Growth Continuum, a new tool from the Center for Educational Leadership, takes on this issue and describes some of the next steps instructional leaders can take to improve their practice.
(If you want to know more about this new tool and learn how to identify "next steps" in growing your instructional leadership practice, join our live webinar on April 21.)
What's the 4D Instructional Leadership Growth Continuum and who should use it?
The 4D Growth Continuum is a research-based leadership tool that describes what it looks like to improve one's practice as an instructional leader from a novice level to that of an expert.

Moving from novice to emerging, accomplished and expert, each level of practice describes the appropriate leadership behaviors for each of the four dimensions of instructional leadership (vision, mission and learning-focused culture, improvement of instructional practice, allocation of resources, and management of systems and processes) and their subdimensions.
The tool is useful for anyone who is interested in improving a principal's practice. That could be a principal, someone coaching a principal or someone evaluating principals and wanting to identify specific strategies for growth.
But please keep in mind, the tool is designed for self-assessment, personal reflection, goal-setting and as a guide for professional growth. It's not intended for evaluation.
Connection to the 4D Framework
Many principals and coaches are familiar with our 4 Dimensions of Instructional Leadership™. This framework describes the essence of effective instructional leadership — the work principals must do to improve instructional practice.
The 4D Growth Continuum helps principals move towards this goal and describes what leadership behaviors look like at varying levels of expertise.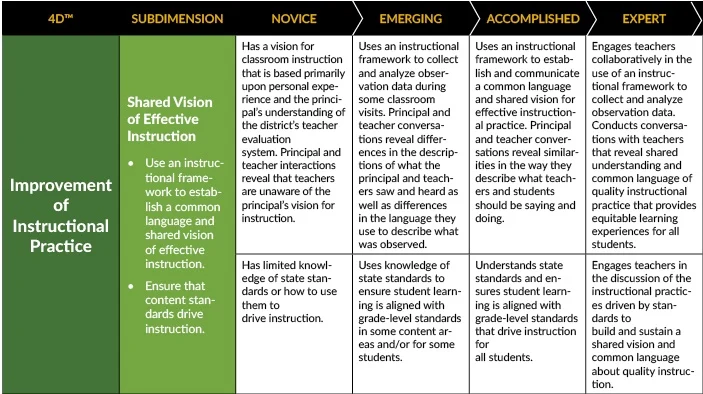 How to use the 4D Growth Continuum in your practice
First, look at the 4D framework. It shows the primary elements of effective instructional leadership. If you have your own district framework, do a crosswalk and see where there is alignment. From experience I know that there is typically pretty significant overlap between and among research-based documents.
With clarity on what good instructional leadership should look like in your district, you can use the 4D Growth Continuum to self-assess your practice. It's best if principals initially do this on their own. I also recommend grounding this assessment in concrete evidence.
Take the 4D Growth Continuum and look at the higher skill levels — not just the next one — to see what you are not yet doing or if there are certain actions and behaviors that you shouldn't be doing anymore.
Next, talk to your supervisor, coach or mentor and determine together if the assessments of your level of practice are similar. For example, you might see yourself at the novice level in establishing a learning-focused culture, whereas somebody who regularly observes your practice views your level of expertise as 'emerging'.
This is an important conversation and one that should be firmly grounded in evidence. Doing so will keep the dialogue tied to reality and helps to answer the next question: which area of practice should I work on first?
Finding this area of focus can be difficult and the 4D Growth Continuum doesn't provide a ready-made answer. Rather, I suggest that you think about what data you have about students and teachers in terms of their performance and find your leadership focus from there.
For example, it could be that teachers feel demoralized and unsupported, which may lead you to work on building expertise in improving school culture. Or, students could be struggling with a particular skill because they need focused intervention. This might lead you to review how you are allocating time and other resources.
Whichever focus you choose, use the 4D Growth Continuum to look at the higher skill levels — not just the next one — to see what you are not yet doing or if there are certain actions and behaviors that you shouldn't be doing anymore. From there, you and your coach can plan next steps.
Things for supervisors, mentors and coaches to keep in mind
The 4D Continuum helps you to assess a principal's skill level in each of the four key dimensions of instructional leadership. It's unlikely that one person is at the same level on all four. Rather, it's normal to be 'novice' in one, and 'accomplished' in another, for example.
Is it possible to be 'expert' in all? Yes, and I know that there are some very good principals out there. But chances are, even very advanced instructional leaders can get better at something.
Assessing the skill level of a principal with the 4D Growth Continuum is typically a job for the principal and his or her coach. However, that doesn't mean talking about the document in a larger group doesn't have any benefits. In fact, it can really drive a districtwide discussion about expectations and deepen a shared vision of instructional leadership.
It's about leadership for student learning
We all know that principals today juggle many tasks. The most important one though should be giving all students the best possible learning experience. This requires passion, stamina and a commitment to improving one's own instructional leadership skills.
The 4D Growth Continuum gives principals a road map for their personal growth journey in instructional leadership. It shows you where you are in critical aspects of your practice and offers more specificity on how to move to the next level.
——————————————————–