by JUNE RIMMER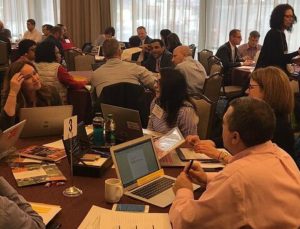 We just returned from leading a really rich learning session with the first cohort of the AASA National Principal Supervisor Academy. We have the honor of providing the professional learning for this academy as well as for principal supervisors in several districts throughout the country. What a remarkable group of educators! They have embraced this new work, and we are thrilled to support them as they help principals to become expert instructional leaders who can improve the quality of teaching in their schools and improve learning outcomes for students.
The work is very different from that of the traditional principal supervisor. For most principal supervisors this is truly new work, with a priority focus on building principals' expertise as instructional leaders through one-to-one coaching and working from problems of practice and problems of student learning.
Our work with principal supervisors is grounded in the Model Principal Supervisor Professional Standards released by the Council of Chief State School Officers. As we help supervisors unpack these standards and the implications for their new work, a number of priorities surface.
Consider the following five priorities for principal supervisors:
This is student-centered work. Even though principal supervisors are often designated as central office staff, their work with principals must begin by understanding the problems of student learning that schools are addressing. From there they can develop a clear through-line from their work with principals to impacting student learning.
The work must be deliberate, intentional, data-driven, supported by evidence, and therefore requires planning. Principal supervisors working collaboratively with principals must target specific changes in principals' practice and develop and implement plans to help principals grow in their practice.
Principal supervisors are still responsible for monitoring, supervising and evaluating the work of principals. The work therefore requires a careful balance of this work with that of serving as a coach and support to principals. It also requires that principal supervisors be skilled at using the evaluation process for growth.
Doing the work well has implications for other departments in the central office. Principal supervisors must work collaboratively with areas such as academics, human resources, assessment, professional development and others to help ensure alignment and coherence in the delivery of central office services and support to schools.
It is essential that the work is authentically grounded in the school's context, supporting the real work that principals must attend to in order to improve student learning.
Apply by April 13, 2018 to join the AASA National Principal Supervisor Academy
One academy participant summed up her most important take-away from the academy so far: "The joint work of supervisors and principals with a focused through-line to students is the key outcome for this work," she said.
As we work with these dedicated professionals, we continue to help them answer the huge questions: How do we know this work is making a difference? What evidence best demonstrates change in leadership practice? Teaching practice? How do we measure the impact of this work?
We are really looking forward to welcoming a new cohort of applicants for the AASA National Principal Supervisor Academy and our ongoing work with principal supervisors in our partnership districts. We hope you will join us in this important journey.