In preparation for this new 2019-2020 school year, University of Washington Center for Educational Leader (CEL) experts kept up with their summer reading and shared six educational book recommendations. With a focus on equity, courageous leadership and student-centered learning, these books should be on your reading list as you enter the school year.
Let us know your favorite educational reads on Twitter @UWCEL.
Turning the Flywheel: A Monograph to Accompany Good to Great
by Jim Collins (HarperCollins)
A quick, yet impactful read, on how high-performing companies and schools use the flywheel concept to stay great in the face of changing external forces. While companies deal with changes forced by the market and competitors, this book can help school and district leaders stick to what makes them successful in the face of policy and funding changes. As Collins states, the flywheel concept is not just for CEOs, and he even includes an example from a turnaround elementary school.
"Leaders who create pockets of greatness at the unit level of their organization—leaders like school principal Gustafson—don't sit around hoping for perfection from the organization or system around them."
Highly recommended reading for any school or district leader eager to unpack and then replicate what is causing success or to understand how others have built persistent success into their school or organization. — Max Silverman
White Fragility: Why It's So Hard for White People to Talk About Racism
by Robin DiAngelo (Beacon Press)
A great book to help us think about the often times counterproductive reactions of white people to race—based discussions and cross-racial dialogue. This book helps us understand this phenomenon, where it comes from, and how it serves to maintain racial inequities.
I appreciated the examples provided and how the author addressed both the "what" and the "why" in ways that were easily relatable. This was an important read to me personally, as a white person who needs to learn, and professionally, as we develop our abilities to engage with partners around racial equity. — Lisa Rooney
Motivated: Designing Math Classrooms Where Students Want to Join In
by Ilana Seidel Horn (Heinemann)
Horn describes five features present in motivational classrooms: students' sense of belongingness, the meaningfulness of learning, students' competence, structures for accountability, and students' autonomy. The ideas, stories from teachers, and research all serve to paint a picture of a new kind of math classroom where students are positioned differently – as capable thinkers whose ideas, stories, and lives are included in their learning.
This would be a useful read for teams of math teachers as it provides concrete examples and practices for them to consider. It could also lead to important conversations about the specific and powerful role of math in the creation of a school culture. — Renee Gallagher
Becoming
by Michelle Obama (Random Penguin House)
I read "Becoming" by Michelle Obama, and was so inspired by her beliefs and actions that I had to listen to the audio version as well. Hearing Obama tell her story was even more inspirational. Hearing the emotion, honesty, and sharp sense of humor in her voice truly brings to life her journey through discriminatory roadblocks to find her place in the world.
Through her story, Obama gives insight on how to notice injustices and then, how to act on them. Her story is a very personal account of a woman who surpassed obstacles and inspires others to do the same. — Sandy Austin
Who Do We Choose to Be? Facing Reality, Claiming Leadership, Restoring Sanity
by Margaret Wheatley (Berrett-Koehler Publishers)
This book brings together the harsh realities of today's world with real hope of what leaders can do with the communities they serve. I appreciated that Wheatley was direct and honest about challenges we face and yet provided very real and practical ways that leaders can navigate during uncertainty. It taught me that there are very real things we, as leaders, can do for people during negative times.
I heard Wheatley speak at Learning Forward about Who Do We Choose to Be?, and I was inspired by her talk and even more so by this book. — Jenn McDermott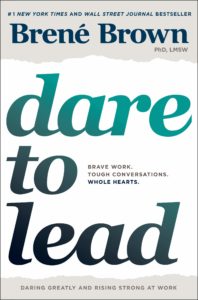 Dare to Lead
by Brené Brown (Penguin Random House)
I finally got a hold of Dare to Lead through the Seattle Public Library – it's a book that is in demand!  I read the book on one plane ride, which was part of Brown's intention. The book is meaty and provocative, also very readable and accessible, and at times really funny.
At CEL we have been discussing what makes leadership truly courageous, and Brown offers one important perspective – that courageous leadership requires being vulnerable and to make space for others to also be vulnerable.
She defines courage as, "a heart word…The root of the word courage is cor- the Latin word for heart. In one of its earliest forms, the word courage meant 'to speak one's mind by telling all one's heart.''
I appreciated the practical strategies and examples from all types of industries in this text. This book feels particularly critical right now as we enter a new school year and think about the future we want to create as leaders. — Joanna Michelson