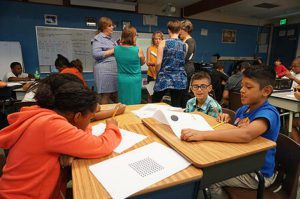 The University of Washington Center for Educational Leadership is pleased to announce the launch of a new line of service, Leading for Teacher Professional Learning.
Unlike traditional investments in teacher professional development that have not consistently yielded results for students, our approach to professional learning develops teacher collective efficacy — a long-term, sustainable approach to addressing persistent challenges of student learning.
Our partnership methodology ensures that your investment will be aligned with ESSA's requirement for professional learning activities that are sustained, intensive, collaborative, job-embedded, data-driven and classroom-focused.
Our 3-year process of collaboration will leave your school cultures revitalized and meaningfully redirected toward students and their learning.
What you will gain from the partnership
STUDENTS taking ownership of their ideas, thinking, learning and engagement
TEACHERS getting better in targeted areas of their instructional practice
LEADERS fostering, sponsoring and sustaining professional learning; creating conditions for teachers to collaborate and problem-solve more effectively
A broader, deeper CULTURE of collective efficacy and public practice
Details and budget
Visit www.k-12leadership.org to view the partnership structure, a detailed partnership prospectus, and a sample budget.
Call for collaborators
CEL is looking for up to two partners who are eager to collaborate intensively as they engage in this transformative work. As a Leading for Teacher Professional Learning Collaborator, you will be engaged in a discounted 3-year partnership with CEL in which you develop new skills and competencies as a Leader for Professional Learning. Review the partnership prospectus for more details. For priority consideration, indicate your interest by Friday, May 17, 2019.
Contact us
We are happy to discuss your needs and how our Leading for Teacher Professional Learning partnership can transform your school system. Fill out the form at www.k-12leadership.org and we will be in touch to discuss a plan and budget tailored to your needs.